News
02.07.2017
Earthmen, residents of Mars and the Moon, as well as other representatives of the Universal intelligence!

We have launched the preparation activities for the show dedicated to the presentation of our long-awaited "Alien Hazard" album. The event will take place on September 30th at Glastonberry club (large hall). We are going to share the stage with Deadheaven and CONFLICT bands. Together we'll create an unforgettable sci-fi atmosphere!

Join the official event pages, so that you could keep up-to-date and by no means miss the performance.
Event in VK: https://vk.com/sunwalter_ah
Event in Facebook'е: https://www.facebook.com/events/114620465823025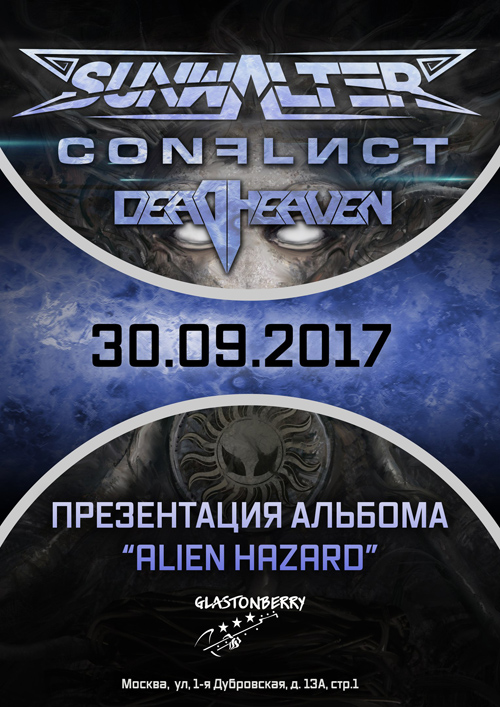 20.06.2017
We are ready to announce officially the name of the terrestrial representative supporting our "Alien Hazard" album: please meet Sliptrick Records! Today we signed a contract on mutually beneficial conditions. Our new partners already have lots of noteworthy releases in the territory of Europe, USA and Japan. We hope this intergalactic collaboration bears fruit and success. Stay tuned, we'll announce the album release date in a short while.
10.02.2017
The mixing and mastering of our "Alien Hazard" album have been successfully finished. At the moment, we are looking for a record label to take on the release and distribution. As soon as the label is found, and the contract is signed, we will be ready to announce the album release date as well as the date of its presentation!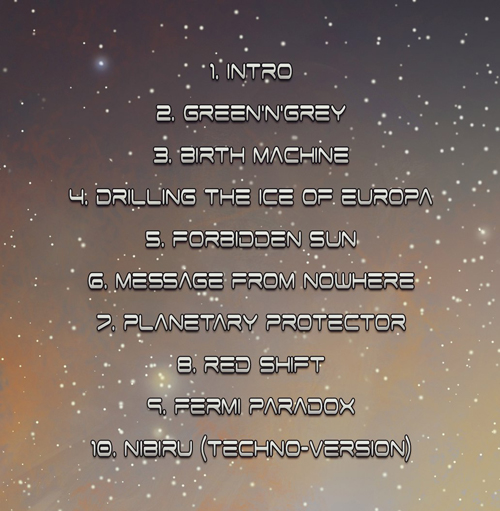 22.11.2016
Our video archives brought back after the show in Vologda have allowed us assemble another video — this time it's our "Fermi Paradox" track that you will be able to find on the "Alien Hazard" album. It deals with that famous Great Silence Paradox officially explaining the missing contact between the people of Earth with extraterrestrial intelligence.

Enjoy!
04.11.2016
While orbiting the Earth and adjusting some digital data, we managed to put together some video fragments of one of our songs, called "Drilling the Ice of Europa". It is dedicated to the moon of Jupiter, covered with ice from the outside and concealing an ocean of liquid water under that thick coat. Maybe one day scientists will find a way to deliver there a machine able to drill the ice and dip an underwater probe in order to explore the moon for extraterrestrial forms of life.

We hope you'll enjoy it!
10.09.2016
SUNWALTER on IndieGoGo!

Sunwalter space crew are ready to provide the audience with a new portion of extraterrestrial knowledge in the form of the second album titled "Alien Hazard".

Almost all resources required for album production are gathered. In order to collect the remaining part of terrestrial financial means, volunteers are invited, and we are ready to repay you for your help with unique artifacts from the deepest space!

Detailed mission briefing is available in the video and here.
27.08.2016

27.08.2016
Here comes a backstage video from Sunwalter photo session.

As promised, we report on our recent cowboy photo session. Jokes, understandable only for us, included!

Moreover, we show the strange thing we found at the ranch... And tomorrow we'll record another video — this time it will be a rehearsal report. We'll study the finding more thoroughly :)

So... see you tomorrow! ;)
26.08.2016
SUNWALTER in a different light!

Dear friends! Some days ago we let ourselves fool about for a while and made a cowboy photo shoot session!

However, the subject matter wasn't selected without good reason — tomorrow we'll post a video taken during the session, where we are going to tell, why we substituted our habitual space surroundings with all those hats and pitchforks! :)

Moreover, during the session we found a strange thing... We'll show it in the video as well.

For now, here you have a couple of photos for a start. A while later we'll publish the main set of promo photos!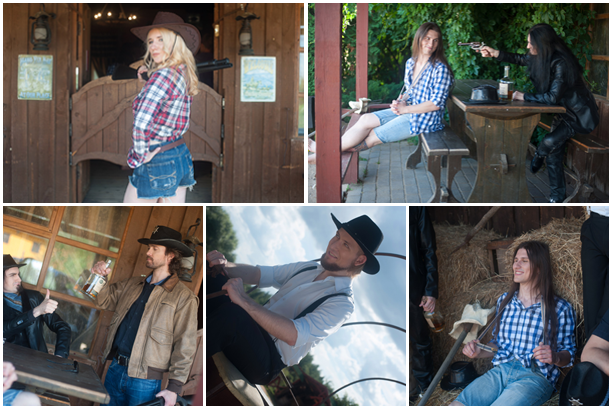 27.06.2016
The day has finally come! The recording process of our "Alien Hazard" album is completed. In a few days we are going to send all materials for mixing and mastering. This task will be fulfilled by the well-known sound engineer Arkady Navakho. We'll keep you informed on the mix readiness. Until then, let's reveal some spoilers...

Track-List:
1. Intro
2. Green'n'Grey
3. Birth Machine
4. Drilling the Ice of Europa
5. Forbidden Sun
6. Message from Nowhere
7. Planetary Protector
8. Red Shift
9. Fermi Paradox
10. Nibiru (techno-version)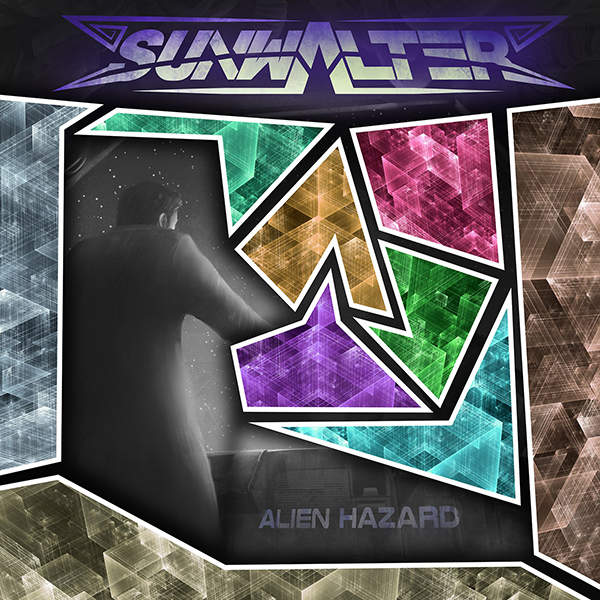 20.05.2016
Dear friends! We've just got some fragments of the interview given by us on May 7th to Edward Crabtree. For now, only the original script is available (in English — Edward's mother tongue), but we are going to make the translation into Russian as soon as possible. The whole thing can be found here.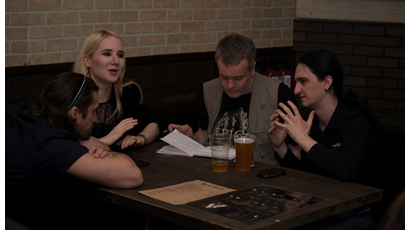 28.03.2016
Dear friends! We, SUNWALTER space crew, express our gratitude for your support at our gig on March 26th! We would also like to thank our technical assistance staff and photo/videographers. We are going to take a break and get back to the extreme vocals recording for our upcoming "Alien Hazard" album, but we look forward to meet you on May 7th at our brand event — the MetalMusicMadness fest, organized by our drummer and dedicated to his v-blog..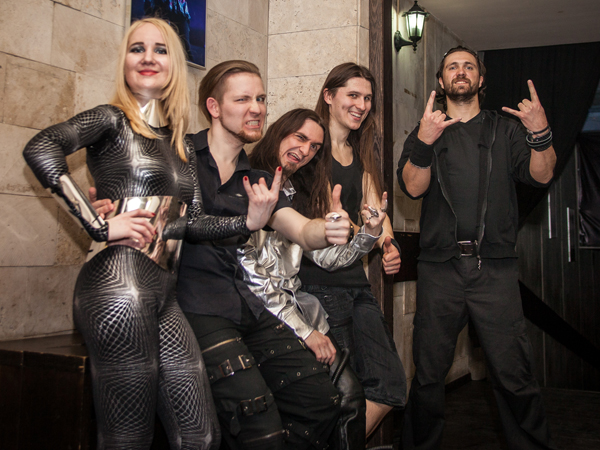 24.03.2016
Our dearest space friends! We are glad to announce our next show that will take place on March 26th (Saturday) at ROCK HOUSE club in support of Xe-None band. In addition to the concert program we have as usual prepared a couple of surprises for you. Join the corresponding VK group to get detailed information.

Event starts at 18:00
Ticket price: 400 RUR
Club location: Moscow ("Partizanskaya" metro station), Izmailovskoe highway, 71-5 (E).

You can purchase a ticket from any member of our band or via feedback form.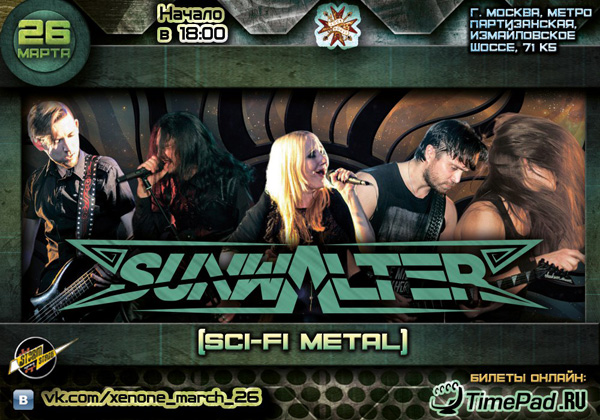 06.11.2015
Dear friends!
After our short stay in Vologda and a week-long vacation it's high time to make your day in Moscow!

On December 12th (Saturday) we are going to land our spaceship at BROOKLYN club in order to support our brothers from Digimortal, with whom we already had a successful joint performance this summer. This time we'll play both old and new songs, and we'll also present you our new female vocalist Olga Sol, who was warmly greeted by our fans in Vologda. For more information please refer to the corresponding VK Event.

The doors open at 18:00.
Ticket price: 400-600 RUR
Club location: Moscow (Barrikadnaya metro station), Kudrinskaya Square, 1.

We are glad to offer you the tickets at a special price (400 RUR). You may purchase them online via our new system anytime you want - even without going outside your place. All you need is to contact anyone from our band in whatever manner you like or just send us a message via feedback form.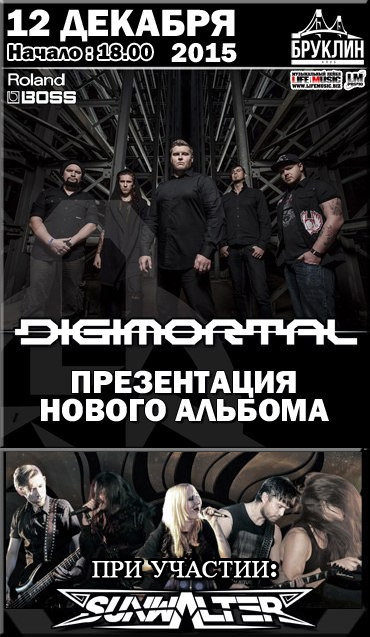 01.11.2015
Thanks to everybody who was at our MC Halloween 2015.gig in Vologda. We appreciate your cosmic support and power, and we'll surely visit you again!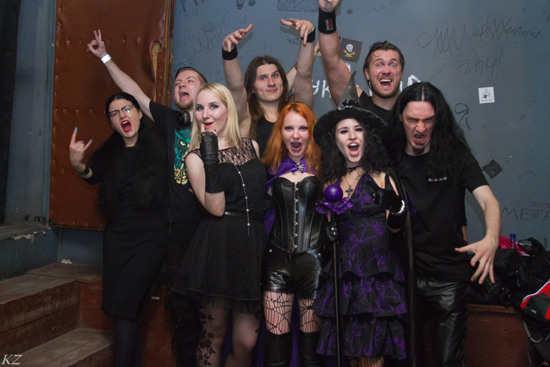 06.10.2015
October 31st will be the scariest day of the year, the day when all the evil spirits feast, the day when everyone feels both joy and fear! The darkest forces will be summoned at IRRIS club (in Vologda).

Dear friends! That very place will see our next performance. We always keep in mind that you wait for us to come to your regions. Soon we plan to visit other cities and towns, but for now we hope to see you at "MC Halloween 2015" in Vologda (October 31st).

Along with SUNWALTER, a band from Yaroslavl called TENEBRARIA, as well as four local bands: IMMELSTORN, SCOLF, G.M.E.-project & EvEning, will join the event.

Additional info and other details can be found in the event group at Vkontakte and also at the organizer's website.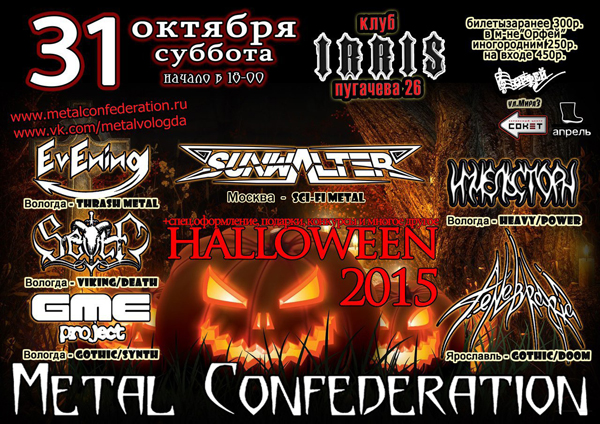 04.10.2015
As we promised, we present our new vocalist - Olga Sol.
Olga, welcome to our spaceship. We hope that our collaboration will be long and successful!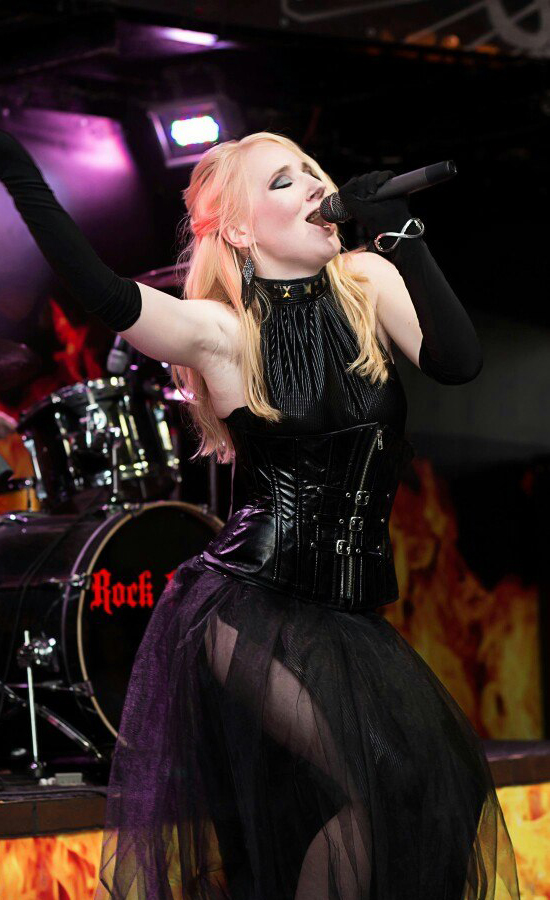 02.10.2015
Dear friends!
We regret to announce that our female vocalist Mrojah has quit the band due to creative and organizational disagreement. However, we are not going to interrupt neither our concert activity, nor the album recording process. We have already found a new vocalist, whose name and other details will be revealed as soon as possible.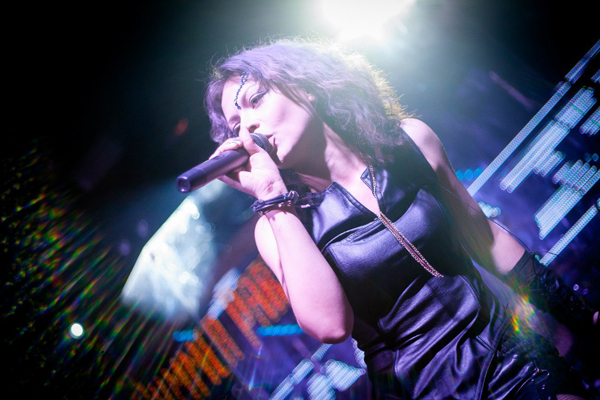 10.08.2015
We are glad to show new live video "Planetary Protector"! This track will be on our upcoming LP album "Alien Hazard". Check our news and subscribe to our channel on Youtube.
18.07.2015
Friends! Thanks for your support on our live yesterday. We were glad to see your happy faces. Special thanks to concert agency LifeMusic for organization this event, to club stuff and sure to photographers who made many good photos.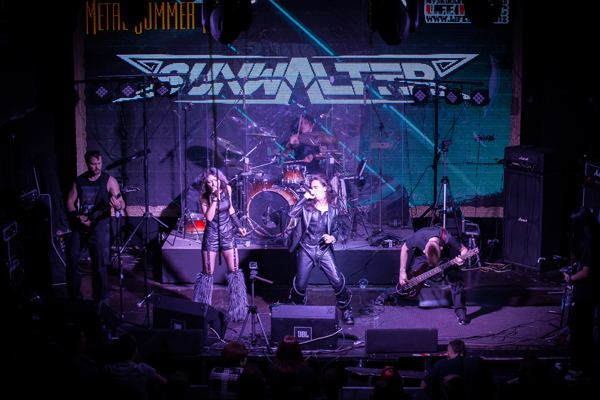 03.07.2015
Dear friends, fans and just good people!
We inform you that our next gig will be on 17 July in club Teatr. We have prepared 40-minutes set list for you with old songs from album "SETI Evidence" and from upcoming "Alien Hazard".

Except SUNWALTER next bands will be on this gig:
Digimortal
Arda
Арктида
AcatoniA
DeCord

Start at 17:00

You are able to buy tickets through any our band member or order through the feedback. Price - 300 RUR. First five customers will get album "SETI Evidence".
We are waiting for you on 17 July at 17:00 in club "Teatr" on our gig!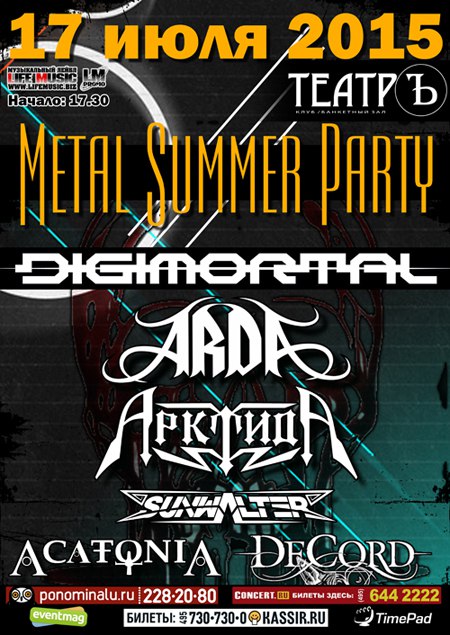 29.01.2015
Last year we said that plan to do our own mobile application for our band. With help of Reverbnation we are ready to introduce this application. The application offers to listen to our music, watch our photos, videos and check last news of our band.

This application is possible to install on mobile devices with OS Android. To get the application please enter on our web-site via your mobile device and press green button "Get It On Your Android Device"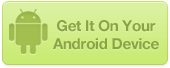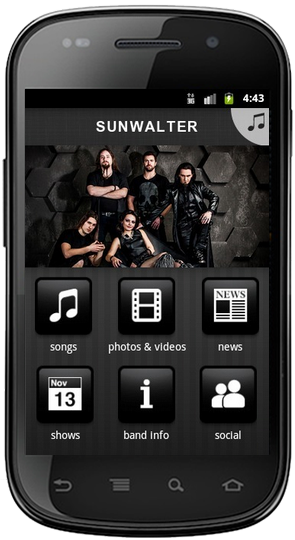 22.01.2015
Our project has been registrated on ReverbNation. We will be much obliged to you for your support in this community.